Saucey's – Texture & Drywall Repair Professionals
We pride ourselves on being the best ceiling repair professionals around. We can match almost any texture using original materials and processes.
Many repairs require us to cut out the damaged section, replace the drywall and properly tape the joint. These steps are critical in achieving a seamless match. We then spray the area with the appropriate texture. We can repair most holes or damage in one visit. No need for multiple visits to repair textured ceilings.
Interested in getting a quote? Then check out the online form! Or you can go and see the results of previous jobs over at the before/after section.
"Our ceiling looks amazing! Would never know there was any damage! Jason was very professional to deal with and reliable with scheduling. The best part was I didn't have to clean up a mess after the job was done, Jason did that! Thanks so much! We will definitely call you next time!"
Before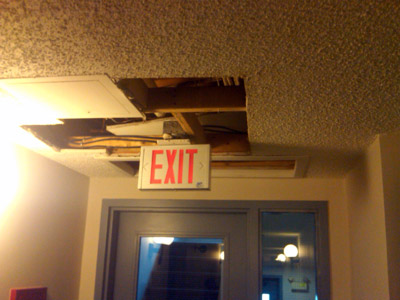 After